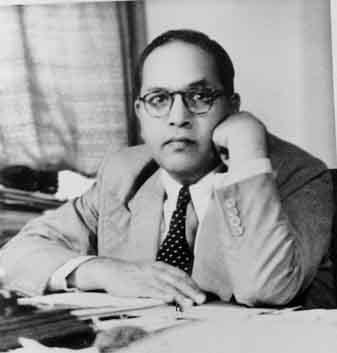 The caste system has survived for about 1,500 years in Indian culture. The ranks of Hindu society originate, according to legend, from the main groups, or varnas, that emerged from a primordial being. From the mouth, emerged the Brahmans- the priests or teachers. The arms of the being became the Kshatriyas- the rulers and soldiers. The thighs became the Vaisyas- merchants and traders. Lastly, the laborers, or Sudras came from the feet of the being.
The Untouchables
, or Dalits (or Achutas, or Mahars), make up a fifth group that the primordial being does not claim. They literally do not belong to the general body of humanity in Hindu belief.
The Untouchables, to this day, perform the work that Indians consider 'unclean'. Usually this means any work that requires contact with blood, excrement, and other bodily 'defilements', as defined by Hindu law. Most aspects of daily life and behavior are set down in the Law of Manu, a text compiled 2,000 years ago by Brahman priests. The caste system is formally outlawed in India; since 80% of Indians are Hindus, it still persists.
Mahatma Gandhi (a Vaisya) naturally opposed the situation for Untouchables, without taking the natural next step of opposing caste itself. He rechristened them "Harijans" or "children of God" and toured the subcontinent in 1933 agitating for their rights. He also adopted an Untouchable daughter. However, Untouchables note that Gandhi ultimately upheld the orthodoxy of the caste system.
Bhimo Ramji Ambedkar
: (Pictured) Untouchable hero, who drafted the Indian constitution, wrote several books, and founded the first Untouchable political party. He was outspoken and controversial; in one case, burning a copy of
The Laws of Manu
during a public protest. Unlike Gandhi, Ambedhar felt that the religious underpinnings of civil life in India should be done away with. Gandhi objected on religious grounds. For some time, the relative merits of Ambedkar versus Gandhi were debated in India.
Things have improved greatly for Untouchables since the days that they could be beaten to death for touching a higher caste member (or casting a shadow upon them in some cases). Today they are represented in the Indian Parliament and in equal opportunity laws. However, they are still socially separated, shunned, relegated to 'unclean' work, and often attacked for openly defying the caste system.
Violence against Dalits is still common
. The Untouchable status has been called the strongest racist structure in the modern world. Without taking account of skin color or genetics, the status brands millions of Indians as lower than the rest of humanity from birth. The status, and the caste system itself, has no place in the modern world.