First, let's begin with the odd thing we ate last week, a triangular loaf of bread so dense that it probably weighed six pounds. It was filled with and coated with sunflower seeds, and also flax seeds. And carrot shavings. And... other stuff. We don't even know what exactly was in it. It was so dense that it was
required
to toast it prior to consumption, simply because the loaf seemed either over-moist or under-cooked. On the bright side, we were eating it with Joghurt Butter--regular butter blended with non-fat yogurt. It's creamy like butter, low(er) fat like yogurt, and tasty like ... .uh. Like a tasty thing.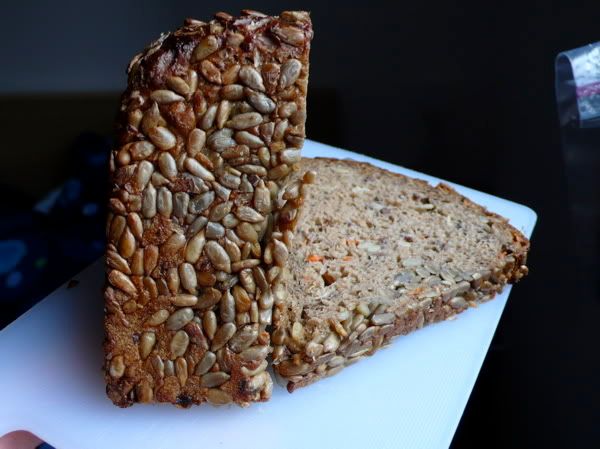 Thursday was a holiday for Greg (Fronleichnam/Corpus Christi Day), so we took another long bike ride. This time we went out to Mariatrost Basilica and then past that on the road that winds through the countryside. It's wide and open and very farm-y, although we didn't see much actual farming going on. We saw mowing, and smelled horses. Also, there were a surprising number of gas stations, and one large field where pilgrims visiting the basilica could camp. On our previous trip there, the main difficulty had been getting down the hill from the basilica. We were both too chicken to ride our bikes down the absurdly steep and sharply curving road. Even walking the bikes down required copious use of the brakes, which we were sad to learn would not have been adequate to stop at the bottom if we had ridden down.
The city limit is pretty far out that direction, maybe 8 miles from the city center. It seems like there's space where one town ends and another begins, so the sign simply indicates that Graz is concluded, not that we were about to enter the next town. The red diagonal strike is pretty popular for signage here. Since it resembles the international "don't" sign, we originally thought it might mean we were forbidden from building another city and naming it Graz right next to the original. It is very common when approaching an intersection to see a sign indicating that the pedestrian and/or bike path is concluded, and then just on the other side of the street, 15 feet away, there's a fresh sign showing that the pedestrian and/or bike path begins again. Presumably this helps the alert path user not blunder into traffic...? One assumes the alert path user wasn't going to blunder into traffic anyway.
(The other diagonal stripe in this sign means the speed limit is not 30 kph. We're still not sure what the means, exactly. Don't go less than 30? Stop going 30! Don't get caught doing 30 in the no-30 zone? No clue. It's good that we're not doing any driving here.)
Friday we finally ate at the Chinese restaurant that is possibly as far away as five minutes by foot, for someone who has just eaten a tremendous amount of Chinese food and moves slower. It wasn't bad, and for people eating with chopsticks, the food is served to a small bowl warmed over a candle, instead of a plate. It's funny how long it is taking us to really get to know our own neighborhood. The meal was completed with a small pot of hot plum wine served into thimble-sized cups, and a plate of peanuts and fortune cookies, with fortunes printed in German, Dutch, and English.
Saturday, another long bike ride. This time we went north/west, and then south, around to the Thal area, which has the Thalersee (Thal Lake, more or less, which seemed to involved a spectacular number of paddle boats), the Graz Golf Club, a large Freizeitpark (Free Time Park), where it looked like some kind of children's soccer tournament was going on, and then back again. We were actually looking for a castle ruin that is up in Thal somewhere, but the signage was lacking, and we missed the turn. Checking the map upon return showed that we were really quite close at one point. In general, there is a lot of assumed knowledge here on everything from the names of arcane pastries to what is up a certain road through the forest. Next time...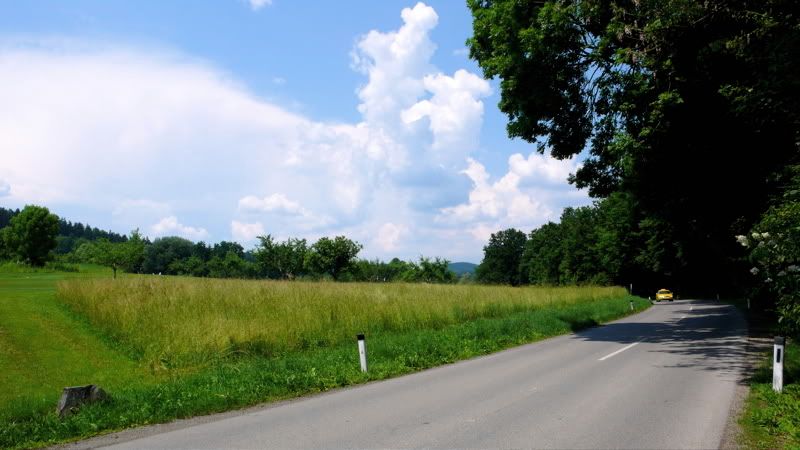 There were curious swathes of greensward with graveled paths and park benches, far from any other thing. For a person who wants to get out away from any real evidence of city without being actually in the wilderness, it's perfect. Most of the auto traffic related to the soccer games, or were taxis coming from the city, bringing folks to the golf course. The very tall clouds visible in one of the pictures eventually moved over the city and led to some tremendous thunder, but no actual precipitation. The weather continues to be gorgeous.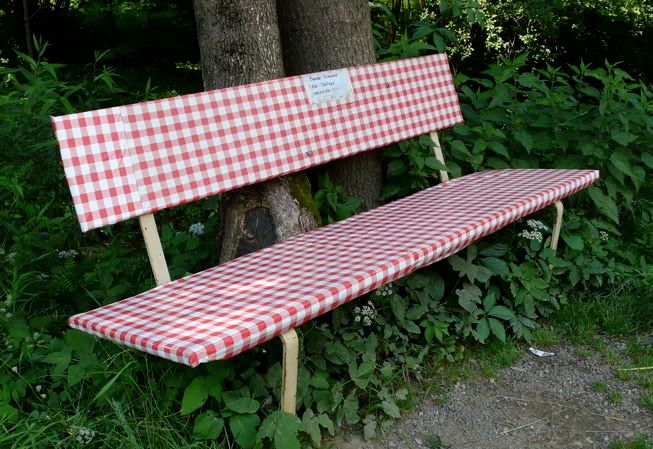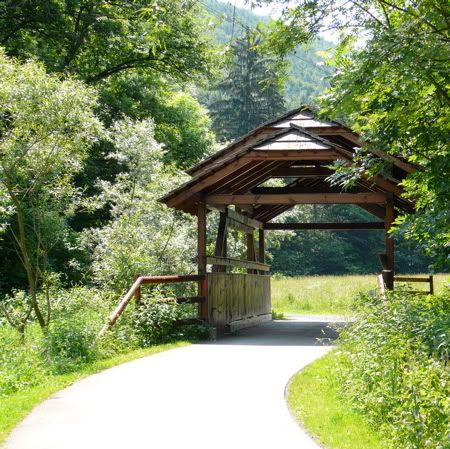 We also passed a covered bridge, specifically for those on the bike/foot path, and a covered bench, fortunately not covered with the same material... the card on the back of the bench indicates that the bench was a donation from someone in the neighborhood.
Wildflowers are in full bloom right now, which is scenic and all, but a little hard on the allergic. The streams are full from recent rain north of here, and we saw (but were unable to photograph) some unphotogenically-fast-moving fish in the streams. Any blobs of mud you see in the stream picture (in Photobucket) are probably fish.
In the past week, several notices have appeared in our building's common area, indicating that neighboring buildings will be having large parties soon. The signs seem to serve the dual purpose of letting us know that we are going to be subject to some extra noise and local traffic, and also inviting us to the parties--probably intended to stave off noise complaints, and other calls to the police. Since one of the parties is in the building directly next door, we'll probably learn something about how the inter-building acoustics really work.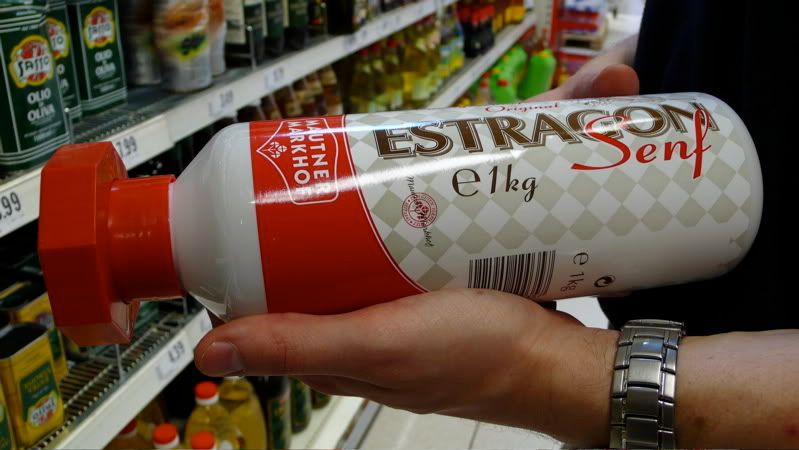 At the grocery yesterday we found a mustard bomb, attractively packaged and ready to drop from a great height onto your enemies/lunch. A kilo of mustard is kind of a lot... probably enough for a bathtub of wurst. This was not even the largest container of mustard on the shelf, but it was certainly the most stylish.
The only other news this week is that this is Greg's birthday. He's celebrating by doing some programming or something... :) Holly gifted him with a German picture dictionary for non-native speakers. It's rather comprehensive, covering not only the basics (body parts, items of clothing, different pieces of flatware and cutlery), but also the less commonplace-- the interior part names on battleships, the components of an off-shore oil rig, names of different dental tools, the steps in a tree graft, assorted aerial maneuvers, and the secret hand signals of volleyball players. It's ALL in there. More dictionaries should lead to giggling. (There are many more of these pictures in the Photobucket website.)