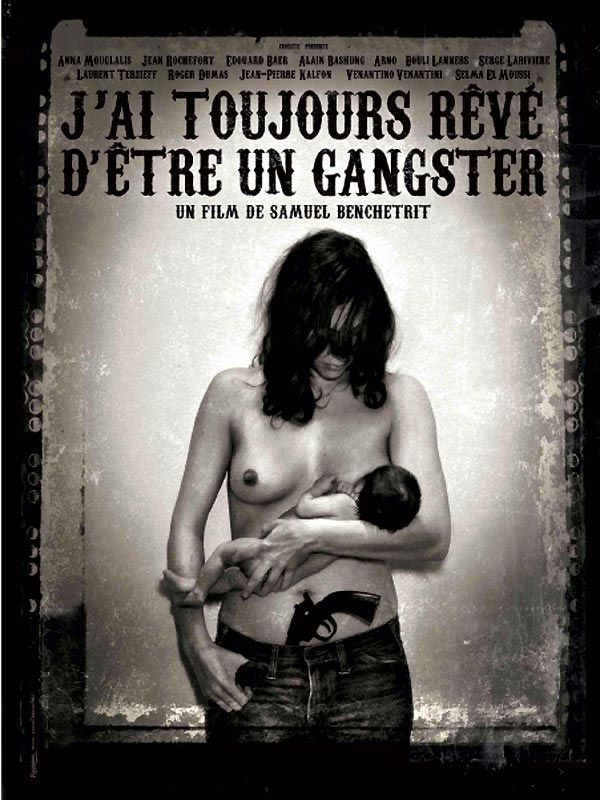 I guess it's not too early for 90s nostalgia after all. J'ai Toujours Rêvé d'être un Gangster, or "I Have Always Dreamed of Being a Gangster", is the first line of Goodfellas, but this film is clearly an homage to lower-budget early 90s independent American films: it was shot in black & white for what looks to have been about 8,000 euros, it is composed of four interweaving storylines vaguely related to crime, the soundtrack features forgotten songs from the 60s and 70s, a dry sense of humor, and the old guard of French cinema all have roles in the film. Clearly, the French are familiar with Kevin Smith and Quentin Tarantino.
Such is art: Tarantino's early films pay homage to Truffaut's early films, which paid homage to American gangster movies, which often paid homage to German expressionist cinema. Art devours its own.
These sort of films tend to be a bit chatty, and French films are notoriously jacassant. Thus, the film has a lot of dialogue. I think all you can really ask here is that the dialogue be funny, which it is, and that the film have some unexpected moments, which it does. Also, it's good if these films make sense in the end, and it basically does. So, you go see the film, or rent it when it's inevitably released, enjoy it and forget about it. J'ai Toujours Rêvé d'être un Gangster isn't going to change the world of cinema, but after all, those 90s indie films really didn't either.