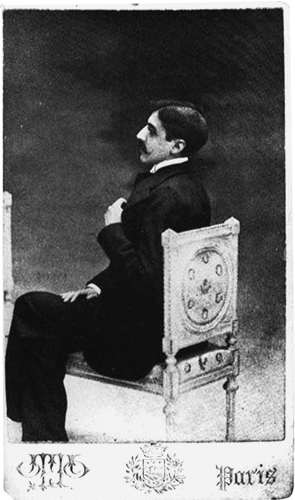 I think I'll truly be reading French at an adult level when I can breeze through Proust without difficulty. I read him in English, one summer during college, and I thought that In Search of Lost Time was the greatest novel I'd ever read. I still do think that. It's amazing to me that I can turn to any page of this massive story and find some startling idea or evocative metaphor there; I've tried it several times and it always works. It's a great story: a social critique, a meditation on human memory, a soap opera, and a study of selfhood and subjectivity.

When you read it, you fall into Proust's languid rhythm after about 20 pages and so his sentences: huge cotton candy-like convoluted bundles of clauses and metaphors: just add to the overall effect. In English translations, the sentences tend to be chopped up a bit; this is normal with translations of French novels; French readers love the semicolon a bit more than English readers do. And Proust has a few sentences that extend longer than a page, and even in your native language it can be hard to follow a sentence with that many clauses grouped around a main idea.

It's even harder in a language that you're still learning. I recently realized that, rather ridiculously, I never finished the last volume of À la Recherche du Temps Perdu; probably because I had to return to university. Basically, I read a 3,000 page story, except for the last hundred or so pages. This occurred to me when I read an article talking about the main theme of the book and how it's finally elaborated in the last page. Admittedly, after 2,900-some pages, I pretty much understood what the theme was; but I still never finished the thing. So, now I'm in search of lost Proust. But, wow, is he a challenge in French.