Talk about prolific: the Japanese photographer Nobuyoshi Araki has published over 350 books, and still has more coming! Some of his pictures are bizarre; others are vividly erotic; many are beautiful; nearly all were taken in Tokoyo. Araki began here in advertising before becoming a professional photographer. He calls himself the greatest Japanese photographer. He has no interest in leaving the city.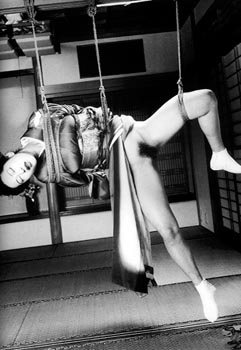 At the advertising agency Dentsu, Araki met his wife Yōko Araki, an essayist. Pictures taken during their honeymoon were published as the book Sentimental Journey. Pictures taken before her death in 1990 were published as the book Winter Journey.
Araki is best known, naturally, for his erotic photographs. To be honest, the bondage stuff doesn't really interest me. Japanese rope bondage just reminds me of boy scouts and knot classes. There's something unerotic about sex that requires so much prep time, and besides, immobility isn't exactly voluptuous. I can see a sort of sexual sculpture aspect to it. But, different ropes for different folks.
The singer Björk is a fan of Araki's photography and has modeled for him in the past. He took the photograph that is on the cover of her remix album
Telegram
. It's not the most interesting Björk cover, but the colors are nice.
I do think there's something impressive about an artist who creates so much art without having a serious loss in quality, and I admire Araki's devotion to his personal vision. Someday there will be a Nobuyoshi Araki Archive in Tokoyo that will keep full time archivists working for decades!